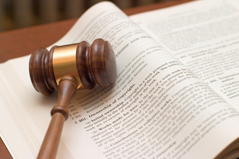 Intorduction to IPR


In the current scenario there is a growing need to protect our knowledge based assets such as innovations and know how to compete with the new knowledge economy. These valuable assets are characterized as "Intellectual Property Rights" (IPR). The key to benefit from the IPRs is to protect the IPRs from possible invasion and misuse and protect the exclusive rights of the creator.

The emerging fields like science and technology, business development methods, software solution skills and artistic creations need to be protected through various categories of IPR such as Patent, Trade Mark, Industrial Designs, Copyright and Geographical Indications.

A combination of letters, words, numerals, colors, drawings, symbols, signs and shapes capable of being represented graphically and which is capable of distinguishing the goods or services of one person from those of others and may include their packaging may be registered as your own Trade Mark initially for a period of 10 years and can be renewed from time to time to perpetuity.

If you have innovations which satisfy the "NNI" (Novelty, Non obviousness and Industrial applicability) criteria you are eligible for the Patent right granted by the country for a term of 20 years.

You can enjoy global rights in all countries that are signatories to the Berne Convention and the Universal Copyright Convention for all your artistic, dramatic, literary, musical, photographs and cinematographic works, Computer Programs until the life term of the creator plus 60 years in the form of Copyright.

Your features of shape, configuration, pattern, ornament or composition of lines or colors applied to any article whether in two dimensional or three dimensional or in both forms by any industrial process or means, whether manual, mechanical or chemical and is judged solely by the eye can be protected under Industrial design which plays a key role in determining the market acceptability. The term of a registered design is 10 years and an extension of a period of 5 years.

The territorial goods which have fine quality and reputation can be attributable to Geographical Indications. The IPRs are protected by initial Registration after proper and adequate Search. This has to be followed by periodic Investigation. The IPR is also to be protected by a well regimented Licensing process, if and when required.

We provide a real time solution for all your assets in the form of knowledge.



INVESTIGATION


We provide a unique expertise in the investigation and protection of Intellectual Property Rights, including the Patents, Copy Right, Design, Geographical Indications, and Trade Mark Infringements.



TRADE MARK INVESTIGATION


We undertake proactive investigations of identifying the infringers who are selling, importing and manufacturing their goods by using your clients Trade Mark. We gather informations about the constitution of the infringer's company, manufacturing structure, human resource, marketing details and trade channel of the infringer's product. We will buy the impugned product (with bill) in the market and produce it before the court as an act of infringement. We stand with you throughout the legal action taken against the infringer.



PATENT INVESTIGATION


We undertake patent infringement investigations with regard to your granted Patents and we fight for your right by filing suits and Oppositions. We assist you in getting Anton pillar order against the infringer (of Trade Mark, Patent and copyright). It is a court order that provides the right to search premises and seize evidence without prior warning. Since this order is extremely unfair to the accused party it can be issued only under the following cases.

There is an extremely strong prima facie case against the respondent,
The damage, potential or actual, must be very serious for the applicant, and
There must be clear evidence that the respondents have in their possession incriminating documents or things and that there is a real possibility that they may destroy such material before an inter parties application can be made.



DESIGN INVESTIGATION


We provide an investigation service with regard to your registered design and assist you to take legal steps against the infringer.



COPYRIGHT


We provide Copyright Investigation service relating to collection of CDs, Books and finding of unauthorized use of the work which has copyright registration.